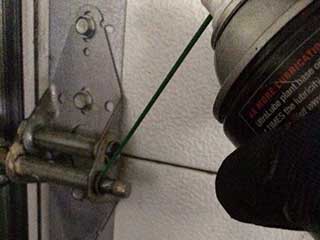 There are several moving parts of your garage door system that could greatly benefit from being lubricated every so often. The bearings, hinges, and rollers, to name a few parts, can actually last much longer if you make sure to regularly apply them with the right type of lubricant.
Not Every Part
While it may seem beneficial to apply lubricant to just about every moving component, that's not necessarily true. Your tracks, for example, shouldn't be lubricated, as that could cause them to become sticky and will make your door get stuck. If you have nylon coated rollers they don't need to be lubricated, as that's what the nylon coating is for. If your opener has a chain or screw drive system then it too can be lubricated, but if it uses a belt drive then that's not the case. These belts are usually made of steel-reinforced rubber or other composite materials, and lubricating them could very likely damage the belt.
Do Not Use WD-40
WD-40 is not meant to be a lubricant. While WD-40 can temporarily lubricate moving parts, it is designed to displace water. It's in the name - WD = Water Displacement. Its main purpose is to dissolve rust. Although people still swear it as a great lubricant, you want to use something different. Using this material may actually break down actual lubricants, which will have an adverse effect on the efficiency of the components you apply it to. This is because it displaces water based materials in order to aid in corrosion prevention. So, if your moving parts are using a water based lubricant, you may be doing more harm than good.
What You Should Use
You can use a lithium-based lubricant or grease to lubricate the various parts of your garage door. Torsion springs can especially benefit from this, as it will keep their performance more efficient, as well as quieter. As part of a regular maintenance routine, you can lubricate your springs, as well as any steel roller and hinges. While you're at it, you may as well examine the condition of these components to make sure they aren't about to break down anytime soon. Even though lubrication can extend the longevity of these components, it's not a magic elixir, and the time will come when you'll have to get them replaced. When that happens, your safest bet is to have our experts at Garage Door Repair Homestead deal handle the situation. Lubricated or not, your overhead door system can be dangerous, and any complex repairs should be left to professional technicians.