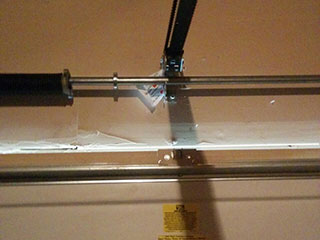 Your springs are among the hardest working parts of your garage door, and the intense pressure they're put under with each use inevitably leads to wearing out over time. Our technicians provide fast repair services to get your door working again as soon as possible, as well as maintenance services to prevent breakdowns from happening in the first place.
Repairing Broken Springs
If your spring has broken, this will mean your door can't be used at all. In order to repair it, our technicians will disconnect both springs, after safely securing the door. They'll then attach and calibrate the new parts and ensure they exert the right amount of tension, providing smooth and reliable operation.
Servicing Your Existing Parts
The heavy use that these parts are subjected to means they only have a limited lifespan. However, regular maintenance will help keep the durability of your springs. Our technicians provide thorough spring lubrication services to keep the coils moving smoothly, and to guard against corrosion. They'll also check their positioning and perform any necessary spring adjustments.
Different Types Of Spring
There are two main types of spring in overhead door systems. Torsion springs are the most common; they're durable and safe. Extension springs can be more complex and more dangerous when they fail, however they're also cheaper and installed at a lower position, making them well-suited for garages with limited headroom.
Don't Try This At Home
No matter which type of spring you're using, these components involve enormous amounts of energy. If they're not handled safely they can be very dangerous, damaging people and property in the vicinity when they come loose. We strongly advise that you do not try to service or replace them on your own - let the experts handle it.
Contact Our Team Now
If your springs need to be serviced, or if you need an emergency repair job, contact our professionals at Garage Door Repair Homestead today. Our team is ready and waiting to solve your problem.
But wait, there's more! We also offer:
Garage Door Safety Inspections
Belt Drive Opener Installation
Torsion Spring Adjustment
Track Replacement & Repair