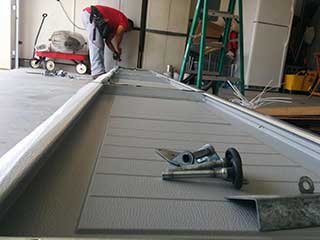 A complex piece of machinery such as your garage door system will inevitably develop problems over time. Constant use puts a significant strain on its moving parts, meaning that springs can wear out and break, openers can fail, and rollers as well as other parts can become dented and corroded. Our technicians can tackle all of these problems and more, restoring your door back to working order quickly and efficiently.
Fixing Door Panels
It's easier than you might think to dent a door panel. Our team can repair minor damage and provide replacement panels from a wide range of trusted manufacturers, including Amarr, Windsor and Clopay if the damage is too significant.
Replacing Broken Springs
All garage door springs have a lifespan, meaning they will eventually wear out and need to be replaced. Whether your door uses torsion or extension springs, our technicians can replace the broken parts with new ones and calibrate them to work with your system. It's very important that you don't try to remove or repair the springs yourself - these can be extremely dangerous and unpredictable components when handled by untrained individuals. It's not worth the risk!
Door Opener Issues
The most complicated part of your overhead door system is the opener; this is the 'brain' that controls your door's automatic movement. There are plenty of things that can go wrong with this part of your system, from faulty circuit boards to broken wiring and improperly calibrated connections. Our technicians can troubleshoot and fix any such issues as necessary. If we think it's time that your unit is replaced, we will advise you of this and make recommendations based on a full assessment of your needs and requirements. We can also look after the complete installation process for you.
Don't Hesitate To Get In Touch!
Whether you're in need of emergency repair services, or there are just a few small issues that need resolving before they become larger problems, you can count on us to get the job done. Contact Garage Door Repair Homestead today to schedule an appointment!
Count on us when it comes to:
LiftMaster Garage Door Maintenance
Opener Sensor Repair & Replacement
Garage Door Cable Replacement
Emergency Garage Door Repairs